Stambaugh Auditorium
YOUNGSTOWN, OHIO
SKINNER ORGAN COMPANY, OPUS 582, 1926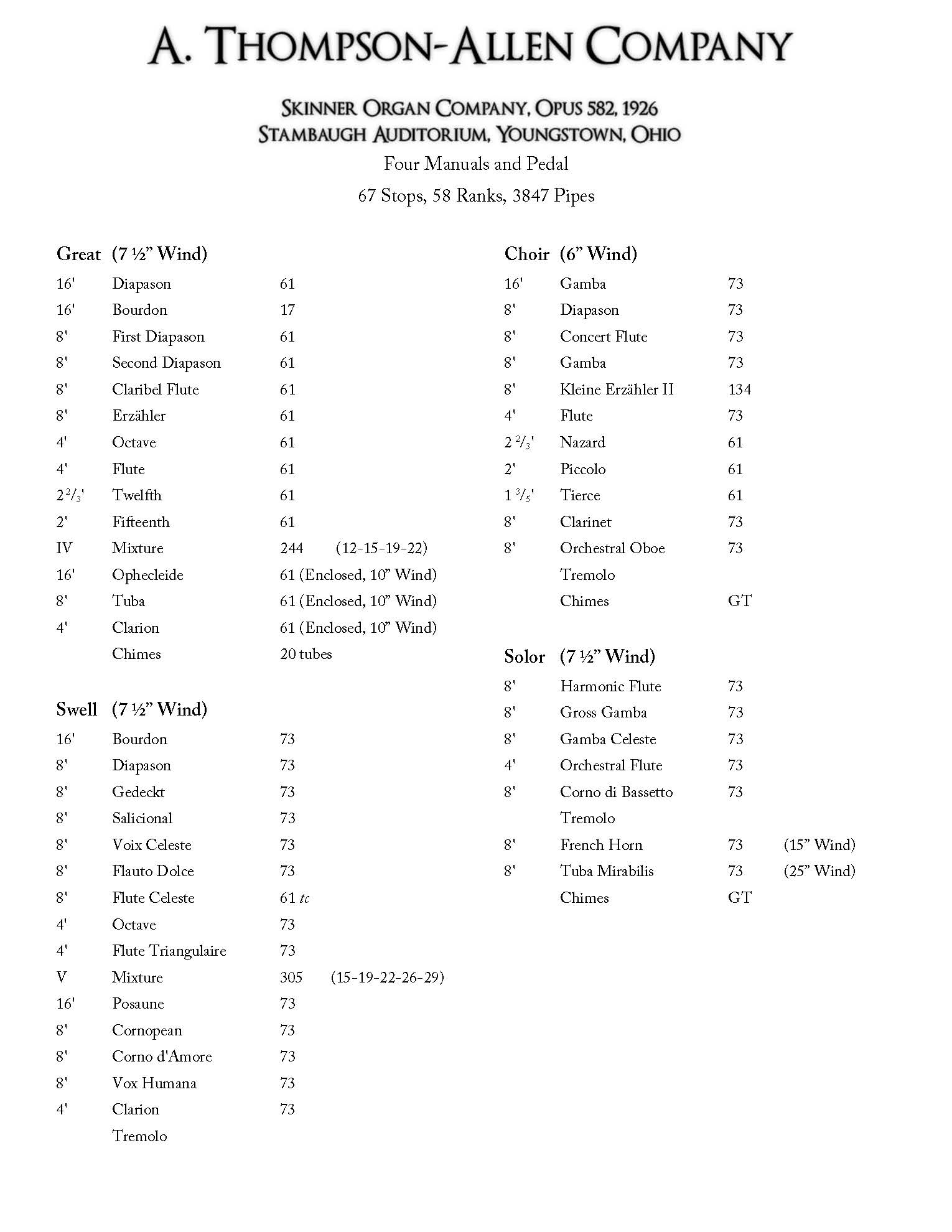 Stambaugh Auditorium
The Henry H. Stambaugh Memorial Auditorium was dedicated in Youngstown, Ohio, on December 5, 1926, its $1.5 million construction cost having been funded by a bequest of Stambaugh, a local industrialist and philanthropist who lived 1858-1919. It was designed by Harvey Wiley Corbett of New York.
Housing a 2,553-seat auditorium, a 9,700- square-foot ballroom, a recital hall, a garden, offices and a commercial kitchen, Stambaugh Auditorium hosts orchestras, popular and classical performers, ballets, weddings, graduations, and even dance competitions.
Henry Stambaugh's magnificent gift continues to serve the public with the support of the trustees, directors, staff, the Ohio Cultural Facilities Commission, the Joseph G. Bradley Foundation, the Anne Kilcawley Christman Fund, the George F. Stambaugh Trust, and many generous contributors.

Skinner Organ Company, Opus 582
Ernest M. Skinner is considered the pre-eminent American organbuilder of the early twentieth century. His innovations were equally mechanical and musical in nature. Although electrically controlled pipe organs had been in existence as early as the 1860s, Skinner was among the first to perfect the system and employ it exclusively, in the process thoroughly re-imagining how the player might manipulate his instrument. Musically, Skinner established the orchestra as his primary reference. While he knew the organ could never be a true substitute for a symphony, he still wanted his instruments to be no less grand, expressive, or evocative.
Organs in this orchestral style experienced great popularity between 1890 and World War II. But with their popular leanings, such instruments seemed ideally suited to secular use. With radio and recordings still in their early days, and professional orchestras few and far between, organ recitals were an easy way for a single person to entertain large audiences. Thus, organ recitals flourished, featuring music either written specifically for the instrument or arranged from popular orchestral works. While halls sprouted up everywhere, it was in the smaller cities that such places became objects of great civic pride. Often lavish in detail and equipment, a concert hall was a municipality's way of showing to the wider world that theirs was not a barren cultural landscape.
Skinner Organ Company Op. 582 for Stambaugh Auditorium in Youngstown, Ohio, was designed and installed in 1926. By this time, Skinner's musical and mechanical style had attained full maturity. The mechanism was prompt, responsive, and silent. Skinner's consoles had reached an apex of intuitive comfort, so much that his style remains an industry template even a century later. By 1926 Skinner's musical outlook had also evolved, placing traditional organ tone on equal footing with his famous orchestral voices. Thus the Stambaugh Skinner represents an ideal synthesis, in which size, placement and ambience are all in harmonious balance. The organ speaks without impediment, directly across the stage into the acoustical warmth of the light-filled auditorium. Centrally located at the lip of the stage, the console is perfectly placed for musician and audience alike.
Though neglected for decades, at one point even sustaining water damage, Skinner Op. 582 underwent comprehensive restoration in 2009-2010 by the A. Thompson-Allen Company of New Haven. Curators of the immense Hutchings-Steere-Skinner organ at Yale University's Woolsey Hall, the Thompson-Allen firm has restored more Skinner and Aeolian-Skinner organs than any other firm, and were thus ideally suited to the task. Collaborators in this venture were Broome & Company of East Granby, Connecticut, specialists in reed pipe restoration; and Richard Houghten of Milan, Michigan, whose team refurbished the console and electrical systems. The result is an exemplary restoration in which every element of the instrument, including its electro-pneumatic console, has been returned to original operating condition. Fortunate to find itself in such welcome and enthusiastic residency at Stambaugh Auditorium, this instrument enjoys an additional historical distinction: it would be entirely recognizable to the men and women who built it.

Jonathan Ambrosino
In 1924 Ernest Skinner made his second trip to Europe to see and hear the famous cathedral and concert organs of England and France. Having met Father Willis and his son on his first trip in 1898, Skinner went to Ferndale Road in Brixton to meet with Henry Willis III at their organ factory. Skinner and Willis struck up a friendship and agreed to a "quid pro quo" arrangement where Skinner would provide his well-known mechanical designs, such as his pitman chest, swell engine, tremolo and combination action. In exchange for this, Willis would provide scales for reeds, diapasons and mixtures. It was Aubrey Thompson-Allen's job as an articled pupil of Willis to apply the Skinner mechanisms to the Willis operation.


Opus 582 shows clear evidence of this Willis influence in the construction and voicing of the chorus reeds, diapasons and mixtures. The Skinner organs up until this time had rather refined and gentle diapasons that softly fade away as you run up the scale. The diapasons on Opus 582 build in volume as you run up the scale, in the Willis style. This organ represents a turning point in the voicing technique that would be adopted through 1932 in the Skinner organ.

Nicholas Thompson-Allen